Join us in September for the Quality in Construction summit
6 Aug 20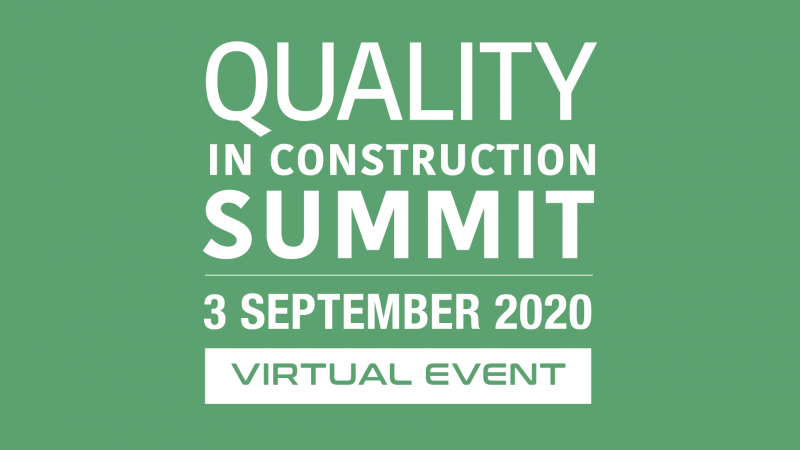 Join GIRI for a panel debate at the Quality in Construction Summit on 3rd September 2020. We have a great line up of speakers and we'll be talking about creating an error-free construction culture.
The summit is planned as a digital version of the event that was postponed as a result of Covid-19 restrictions, and is intended to act as an interim discussion platform to enable critical issues such as the full detail of the draft Building Safety Bill to still be discussed and debated.
The debate around quality will be central to the recovery of the construction industry, the organisers say; they are bringing together a full programme of presenters for a one-day webinar around quality, error reduction, corporate culture and behaviour.
The speaker line-up includes:
Chandru Dissanayeke, Director at Building Safety Reform, the Ministry for Housing, Communities, and Local Government
David Frise, Chief Executive, Building Engineering Services Association (BESA)
Paul Nash MSc FCIOB, Past President CIOB
Vicki Reynolds, Head of Digital, i3PT Certification
Geoff Wilkinson, Managing Director, Wilkinson Construction Consultants Ltd
Tom Barton, Executive Director, GIRI
Mark Wilkinson, Partner, Hoare Lea
David Anderson, Head of Business Process & Quality, BAM Nuttall Ltd
Steve Green, Head of Knowledge Sharing, Bouygues
Joe Cilia the Technical Director of FIS
Amanda McKay MBA CQP FCQI TD, Quality Director Major Projects/Nuclear Quality Director, Balfour Beatty
Rab Bennetts, RIBA OBE, Founder, Bennetts Associates
All delegates are eligible to receive a CPD certificate upon attendance.
Tickets are £49+VAT.
For more information, full programme and speaker biographies, please visit the website.
Back